A Month Long Weekend League 2020
Sat, 4th Jan 01:30 pm - Sun, 26th Jan 04:30 pm
Events: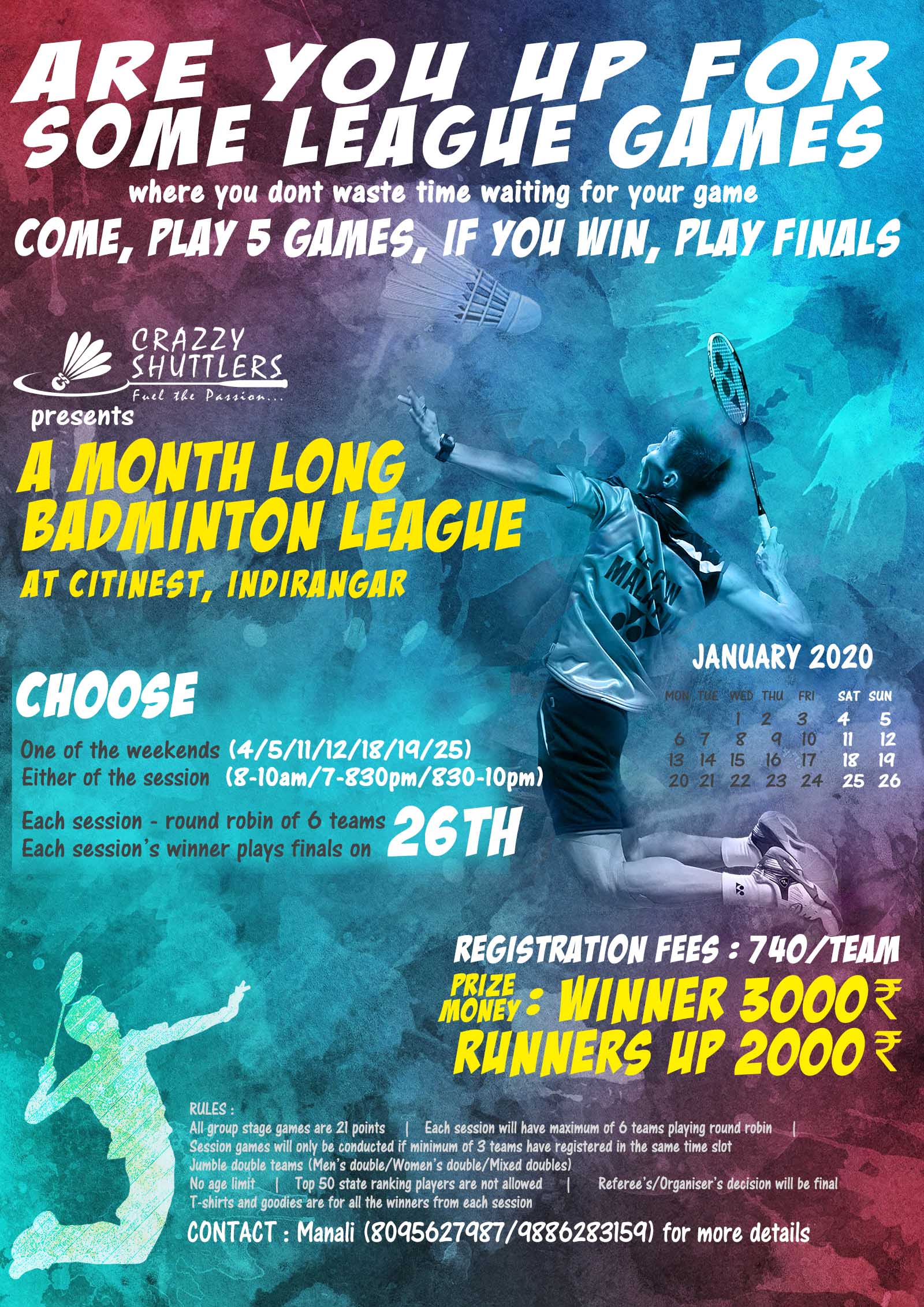 Venue:
Citi Nest Sports Centre, 7th Cross Road, Indira Nagar II Stage, Eshwara Layout, Indiranagar, Bengaluru, Karnataka, India
Details:
Kick Start your year with a long weekend Badminton League at CItinest Sports Center, Indiranagar
Date - 4th - 26th Jan (Only Weekends i.e 4/5/11/12/18/19/25/26)
Time - 7 P.M - 10 P.M
Venue - Citinest Sports Center, Indiranagar
Jumble Doubles( Mens Doubles, Womens Doubles, Mixed Doubles, Family Doubles)
Prize - Trophies, Cash, Goodies for all, Maspro Vocher worth Rs 1000 for the winners
Fees - Rs 740 / Team
Details:
1. League will be happening every weekend.
2. Two timing slots are available you to choose 7 - 8 :30 P.M and 8:30 - 10 P.M.
3. Each team will play in a round robin manner.
4. Each sessions winner will get a t shirt and play finals on 26th Jan.
5. Each game will be of 21 points with no dues or advantage.
Rules:
1. Yonex Mavis 350 shuttle will be used for Adult category.
2. State/national raking players are strictly not allowed.
3. Referees/Organizers decision will be final.
4. Registration once done cannot be cancelled.
5. Re entry is acceptable as league is on different days.
6. No Age Limit.
Please contact us on 80956 27987 / 9886283159 for more details.